headspace


Bankstown
Ground Floor, Suite 1, 41-45 Rickard Road, Bankstown, New South Wales 2200

Phone (02) 9393 9669

Fax (02) 8367 5124
About
headspace Bankstown provides free information, support and services to young people aged 12-25, and their families and friends. We can help with mental health, general & sexual health, alcohol and other drug services as well as work & study support. Simply phone, email or visit us to arrange an appointment.
Service Provider Referral Form
Please Note
Opening hours:

Monday-Thursday
9:00 am - 6:00 pm
(closed between 12pm-1pm)

Friday
9:00 am - 5:00 pm
(closed between 12pm-1pm)

Saturday
9:00 am - 3:00 pm
headspace Bankstown is operated by Flourish Australia. All headspace services are funded by the Australian Government Department of Health and Aged Care. Administration of funding is carried out by the headspace centre's local Primary Health Network, in this case, South Western Sydney (South Western Sydney PHN).
Nutrition screening, dietary assessment and education about food and lifestyle, also support around healthy eating strategies.
Your GP can refer you to see a specialist youth psychiatrist for bulk billed assessment and management advice for mental health issues.
Mental health workers – which may include psychologists, psychiatrists, counsellors and other workers – that can help if you're just not feeling yourself.
Workers either on site or linked to the centre who can assist you with any alcohol or other drug concern.
A group of young people who help with events and some decision making at a centre. Ask your centre about getting involved.
Get tips on how to prepare your resume and present for interviews. Find out about local employment opportunities (full time, part-time, or casual).
Services could include: provision of contraception and advice, testing, support, treatment and management of sexually transmissible infections(STI) HIV/AIDS and viral hepatitis vaccination for Hepatitis and HPV, pregnancy testing and referral.
GPs can help with any physical health issues as well as issues related to sexual health, drug or alcohol use, relationship problems or feeling down or upset. Your centre may have a GP on site or links to one locally. 
Workers either on site or linked to the centre who can assist you with work or study opportunities. 
Centres have a range of programs and activities for young people. Just ask your centre what they have on. 
"As soon as I sought help, I suddenly realised that my anxiety was very treatable and that I wasn't alone."
- Charlie
Jobs and volunteering
Positions currently available at headspace Bankstown
Psychologists / Social Workers - Multiple Locations
Flourish Australia
Join the team at headspace!
Multiple locations available - Bankstown and/or Parramatta.
Flexible to fit your availability
We're looking for Registered Psychologists or Accredited Mental Health Social Workers who love working with young people and families to join our welcoming, and well-resourced team!
In addition to relevant qualifications and experience along with a medicare provider number, we are seeking to find like-minded individuals who are enthusiastic, cooperative team players and positive contributors to the headspace culture. We are very proud of our culture and would love to find individuals who continue to support this.
Due to high demand, we are looking for registered psychologists or accredited mental health social workers to join us for an immediate start as independent contractors, running their own client caseload. You let us know your preferred hours and we will work to fill your calendar.
ABOUT US
headspace works from an early intervention and prevention framework with young people and their families who have emerging mental health issues. We deliver four core services which include general health, mental health support, vocational services, and alcohol and other drug services.
We are not just invested in young people, we are invested in providing opportunities for our team to learn, grow and thrive! Organised professional development and supervision bring our team closer, making our work environment inviting and inspiring!
headspace offers a supportive team environment. As a contracted practitioner, you receive referrals from the headspace team, and we will provide full comprehensive administration support and case management.
Open Monday to Friday! (And Saturdays in Bankstown).
ABOUT THE ROLE
To offer young people and families presenting with a variety of psychological difficulties and disorders high-level clinical services both in-person and via telehealth.
Commitment to achieving therapeutic goals using effective evidence-based treatment strategies.

Assessment and potential diagnosis using psychometric tools.

Participation in clinical decisions about treatment planning, assessment, risk management and working with other services.

Client related work – e.g. GP letters/Reports

Participate in supervision and peer supervision

Work within a team environment, and under broad direction

Liaise with external providers as needed e.g. GP, NDIS, Schools
ABOUT YOU
We would love to meet you if you have direct clinical experience with:
Young People

Families

Cultural Diversity

LGBTIQ+ communities

Eating Disorders
We are looking for a Registered Psychologist or Accredited Mental Health Social Worker AND Medicare Provider to deliver assessment and therapeutic intervention to young people and their families.
YOUR QUALIFICATIONS & EXPERIENCE
Registered Psychologist or Clinical Psychologist with AHPRA, or Accredited Mental Health Social Worker with AASW

Registered Medicare Provider (see

here

for eligibility)

Two years+ of post-graduate clinical experience with young people or within mental health in diverse settings including (e.g. bio-psychosocial assessments, risk assessments and providing focused psychological intervention).

Working with Children's Check and Police Check.
Whilst headspace fully supports early career and provisional psychologists and social workers, on this instance please only apply if you are fully registered or accredited and have a Medicare provider number with direct psychological intervention experience.
YOUR QUALITIES
Able to develop rapport with young people, and families.

Calm, flexible and punctual.

Comfortable with commitment and desire to establish a client base amongst a caring team.

Have excellent interpersonal and communication skills with the ability to work within a team.

Sound knowledge of the impact of mental illness on young people and the ability to provide a positive impact on their wellbeing in a youth-friendly manner
ABOUT THE PAY
We are a bulk-billing psychology practice that provides tele-health & onsite services. As a contracted role - we offer a flat rate that is highly competitive, despite being a bulk billing service. Salary range $85,000 to $95,000 p.a (based on meeting position criteria) plus you will enjoy the benefits of:
Contracted position (2 years with further availability)

Consult with maximum six clients per day

Be part of an enthusiastic clinical team, with access to multidisciplinary practitioners (including GP, dietician, psychiatrist)

Clinical supervision including daily support and guidance, and weekly peer supervision and clinical support (including clinical manager and team leader). Additional supervision negotiable for clinical registrar programs.
Full administrative support
Professional Development opportunities with full training calendar

Team building and social events
HOW TO APPLY
Our ad will be running for 30 days, and we will interview as we receive applications. Only applications from registered psychologists or accredited mental health social workers will be considered.
Please submit your Resume and Cover Letter (setting out your availability and preferred location) via the prompts, addressed to Aniela Gokiert. aniela.gokiert@flourishaustralia.org.au
We'd love to hear from you!
Apply now
Join our Family & Friends Reference Group
Applications are open for our Family & Friends Reference Group!
The purpose of this reference group are to:
Contribute to

the

quality improveme

nt and evaluation of our centre

Reduce stigma surrounding mental health and encourage early help seeking

Support

headspace Bankstown to

maintain a family-inclusive practice
More about what's involved:
The Family and Friends Reference Group is an opportunity to have your say and get involved with headspace

and the local community

As a Family and Friends Reference G

roup member

, you

will be

invited to

meet regularly

Your

participation

may

involve

reviewing documents, providing

your

feedback

about existing services or sharing your ideas for new services,

as well as opportunities for advocacy and being a voice for family & friend representation.
Please read before applying - key role requirements:
You must reside in the local community at application, or be able to demonstrate a connection to the local community
You must have current or previous experience as a carer, family member or friend of a young person who has experienced mental ill health
If you're interested to join, have a read of our FAQs and complete our EOI form. Please return the completed EOI form to our email address.
More information
What is telehealth?
Although headspace generally provides in-person counselling support, due to COVID-19, and the current climate with physical distancing measures, to ensure we are able to still provide a service to young people, their families and friends, we are using a combination of telehealth and in-person services.
Telehealth services consist of any health-related communication via telephone and video conferencing platforms and applications. Instead of in-person appointments, we are now providing online appointments over phone calls and video calls using 'Zoom'.

To find out more about our telehealth services, such as:
How to use telehealth services

How to make the most of telehealth services

Confidentiality

Troubleshooting

Frequently Asked Questions
Please download - Guidelines for Young People to use Telehealth
You can download our factsheet for setting up a safe space at home to talk with your counsellor.


Feedback Survey
If you have used our telehealth services, and would like to provide some feedback on how it went and how we can improve, please fill out the survey here


Consent Form
If you are new to telehealth or would like further information on our privacy, consent, and confidentiality information, please download our Telehealth Privacy, Consent, Confidentiality & Cancellation Policy


For additional information on telehealth, please visit - headspace online and phone services (telehealth)
If you are having any questions or concerns with using our telehealth services, please contact us:
02 9393 9669 or headspace.bankstown@flourishaustralia.org.au
Young People
If you are a young person and wish to see someone at headspace Bankstown, you are welcome to email, call or drop in during our business hours to discuss your options. You can also check out our headspace Welcome Pack here, which has a bunch of info about the services we provide.

Parents, Family, Carers and Friends
If you are the family member, carer or friend of a young person and wish to refer them to headspace Bankstown, you are welcome to call us during our business hours to discuss their options. Please ensure that the young person who you are referring is willing to engage with headspace and is able to attend appointments.

Service Providers
If you are a service provider, health professional, or from a school and wish to refer a young person to headspace Bankstown, please complete our Service Provider Referral Form. Prior to completing the form, please ensure that you have obtained the young person's consent and provide as much information as possible so that headspace Bankstown's Intake Officer can determine the suitability and the most appropriate treatment options for the young person. headspace Bankstown will contact the young person and inform you thereafter of the outcome of your referral with us.
Please return this form by email to headspace.bankstown@flourishaustralia.org.au or fax (02) 8367 5124.
We recommend that you follow up the emailed or faxed referral with a phone call, just to make sure we've received it.
Our phone number is: (02) 9393 9669.

We welcome all feedback and suggestions regarding our referral process. If you'd like to fill out our feedback form, it can be found here.

Please note: headspace Bankstown does not offer crisis or emergency support. If you or someone you care for needs immediate emergency support, please call 000 (Police, Fire, Ambulance), go to a hospital emergency department or call the NSW Mental Health Line on 1800 011 511.
For after-hours services, please contact:
- eheadspace on 1800 650 890 or eheadspace.org.au (9am-1am, 7 days a week)
- The Kids Helpline on 1800 55 1800 (24/7)
- Lifeline on 13 11 14 (24/7)
- Mental Health Line 1800 011 511 (24/7)
we can help you get to where you want to go
Do you need help with looking for a job or job training?
Or support in starting a career? Or advice on study options?
No matter where you're at, headspace Work & Study is here to help you move forward. It doesn't matter who you are or where you live. If you're aged between 15-25, we're here for you. Everything is private and totally confidential. And there's absolutely no cost.
We have a team of friendly vocational specialists at our centre who will work closely with you towards your study and/or employment goals. And if you're not sure what your future goals look like, they can help with that too.
Ways we can help:
Explore different career paths
Building your confidence
Being your best in job interviews
Developing a tailored resume & cover letter
Spotting training opportunities
Navigating Centrelink
Ongoing support once you're working
Tell me how I can get involved?
Call or email us to find out more, or if you're already connected to our service, chat to your Youth Access Clinician. They can arrange a meet and greet with a vocational specialist. If you choose to participate in the program, an initial appointment will be arranged so you can start a vocational profile, job search activities or other goal-setting objectives to get you to your best future.
We can be reached on (02) 9393 9669 or by emailing hwsbankstown@flourishaustralia.org.au
You can read more about headspace Work & Study here.
Useful resources:
Time Management
How to Use the Priority Planner
Budgeting
Job Seeking
Our centre is located in the 'Bankstown City Capital Centre', which is directly across from Bankstown Central Shopping Centre, next to McDonald's on Rickard Road.
Our address is Suite 1, 41-45 Rickard Road, Bankstown. We are located on the ground floor straight down the footpath in the first photo, towards the right side. We are wheelchair accessible, and have a gender neutral bathroom.
If you're having a little trouble finding us, please call on 9393 9669, let reception know that you are unable to find the office and tell us your location and we can try and guide you to our office.

The front of our building complex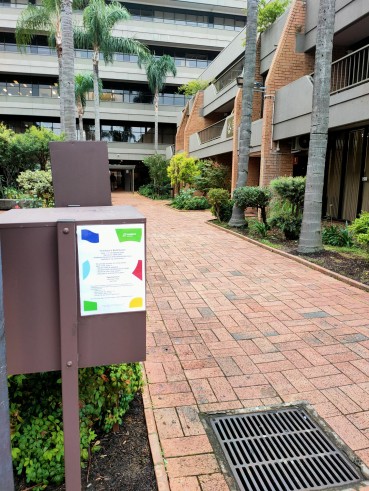 The walkway to our centre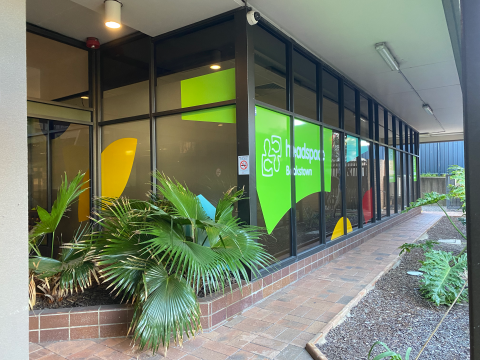 The front of our centre
Here at headspace Bankstown, it takes a bunch of wonderful and passionate people to complete our team and help support the young people that visit our centre.
Our Team

Amanda - Senior Clinical Manager
Fun fact that fascinates you? "Horses only sleep for around three hours within a 24-hour period and never rest for large periods of time."

Michelle - Clinical & Operations Manager
Fave song for a good mood? "Sunday Best" by Surfaces

Ali - Clinical Lead
Fave Drive? Grand Pacific Drive

Mariah - Practice Manager
"People don't always need advice. Sometimes all they really need is a hand to hold, an ear to listen and a heart to understand them." - Anonymous

Angie - Administration Support Officer
Something on your bucket list? "To see the Northern Lights"

Marwa - Service & Community Development Officer
Dream travel destination? "There are so many but Egypt has always been on the list"

Linda - Senior Youth Access Clinician
Fave book? "The Road Less Travelled" - because it challenges me to reflect on my inner self and become a more loving person.

Surleen - Senior Youth Access Clinician
Fave song for a good mood? "Hall of Fame" by The Script

Alicia - Youth Access Clinician
Fave song for a good mood? "Hey Ya!" by Outkast

Jolene - Alcohol & Drug Clinician
Something on your bucket list? "Learn how to kayak"

Maria - Alcohol & Drug Clinician
Fave quote? "The only way out is in" – Junot Díaz

Kim - Alcohol & Drug Clinician

Dani - Vocational Specialist
Fave thing about working at headspace Bankstown: "Having the opportunity to come to work everyday and be myself, express myself creatively, feel accepted and help create a safe environment for every person that walks through the door."

Tina - Vocational Specialist
Dream travel destination? Japan - as it seems like the type of quirky and fascinating place that me and my kids will enjoy. And Hawaii... for the paradise destination."

Adam - Vocational Coordinator
"There is no destination in a well lived life. There is only the journey." - Aubrey Marcus.

Mitra - Clinical Educator
Something on your bucket list? "Write a book hopefully in the next 20-30 years."

Amelia - Practice Nurse
"Our heartbeats change and mimic the music we listen to. music can slow the heart down or rev it up depending on the tempo."

Stuart - Registered Psychologist
Fave quote - "Two all-beef paddies special sauce lettuce cheese on a sesame seed bun"
Youth Reference Group
headspace Bankstown's Youth Reference Group (YRG) is a volunteer team of young people who are advocates for youth mental well-being and are interested in making a difference for the Canterbury-Bankstown community. Many of the YRG members have a lived experience or know someone with a mental health concern which provides valuable insight to ensure young people's voices and opinions remain important in headspace Bankstown's mission.

Our YRG members represent headspace Bankstown through assisting and planning various community events such as annual Youth Week activities, Mental Health Month, creating youth community projects and many more.

Monthly meetings are held to discuss centre and service improvement opportunities and plan upcoming events. YRG members have the opportunity to meet like-minded people and to participate in memorable social team building activities.
Youth Reference Group members with other local youth volunteer groups at an event for Youth Week 2022
Family & Friends Reference Group

The Family and Friends Reference Group is a group who may have had a family member or friend access headspace services or a lived experience with mental health issues. They consult with our centre on a variety of topics and issues, and are involved in a number of local and national projects.
The reference group aims to give family members and friends the opportunity to provide input into the strategic direction of headspace Bankstown, wider headspace programs and services.

Private Practitioners (PP):
Dr Phil - Provisional Psychologist
Doctors:
Dr. Josephine - Psychiatrist
Dr. Jennifer - General Practitioner (GP)
Dr. Erainia - General Practitioner (GP)
Dr. Rachel - General Practitioner (GP) - currently on extended leave
Contributing Consortium Members:
The Salvation Army (headFYRST)
South West Sydney Local Health District (SWS LHD)
Black Dog Institute
One Door Mental Health
Canterbury-Bankstown City Council
Lifeline Macarthur
Dokotela
ACON
Mission Australia
Arab Council
The REACH Foundation
WISE Employment
Beyond Blue (NewAccess)
BreakThru
Marrickville Legal Centre



headspace Bankstown provides youth mental health services to schools and the community in the Bankstown and Canterbury local area.
The Service & Community Development Officer is able to provide the following:
- Attend a mental health event and hold a stall
- Provide educational workshops on mental health & other topics
- Presentations about our service and referral pathways
- Promotional material, and
- In service tour where you are able to visit our centre, meet our staff and find out more about headspace Bankstown
The services provided have a health promotion and education focus.
We deliver these services to promote positive mental health and wellbeing (please note that these services do not have a medical or therapeutic focus).
Please download and fill out our SCD Request Form for any of the above services and return it to headspace.bankstown@flourishaustralia.org.au

For resources & other promotional material, please complete our Resource Request Form.
For more information, please contact the Service & Community Development Officer at headspace Bankstown:
E: headspace.bankstown@flourishaustralia.org.au
P: (02) 9393 9669
At headspace Bankstown, we run clinical and non-clinical groups for young people as well as for their family & friends. They are all FREE of charge.
Our current and upcoming groups include:

headspace hangout - A social group for 18-25 year olds

We know it can be hard making new friends - from people moving on with life, to struggling with social anxiety, or anything else that may get in the way. That's why we're running a social group for all 18-25 year olds in the community who would like a chance to meet new people and have fun with different activities throughout the year.
The group is completely FREE with snacks provided and will run throughout the year. Young people can choose which days they'd like to attend with no commitment necessary, and will include considerations for people with anxiety, neurodiversity, other mental health concerns and all abilities.
To be held every month on the last Fridays from 4pm-6pm.
Location: headspace Bankstown with opportunities to go out.
Download our flyer which lists all of the scheduled activities for the year.
Express your interest here.
PRIDE Group
This is a social group, where LGBTQIA+ young people aged 16-25 are welcome in a safe and inclusive space to connect with others who are also a part of the LGBTQIA+ community. It is a closed, private group where confidentiality is held at all times.
If you'd like to join, please complete our EOI form here. You will be contacted to confirm your membership within the group and for further participation information.
If you would like more info, please contact us on (02) 9393 9669 or email us at headspace.bankstown@flourishaustralia.org.au.
Other Services at Our Centre
In support of delivering proactive and holistic mental wellbeing, we currently offer dietetic and sexual health services. They are free of charge, maintain confidentiality, and are inclusive of all gender identities and sexualities.
Dietetics Services
Our dietitian can help young people:
Learn how food affects mood and wellbeing
Explore how food and medication can impact each other (e.g. ADHD medication)
Eating disorder and disordered eating support
Learn about myths and misconceptions around nutrition
Manage other health issues (e.g. athlete nutrition, IBS, endometriosis, PCOS, cholesterol, diabetes)
Learn how to plan, cook and prepare meals
Sexual Health Services
Our practice nurse can help young people:
Learn about sex and staying safe
Get STI checks (urine and self-swab available) and help treat possible infections
Explore contraception options
HIV prevention, testing & treatment
Learn about pregnancy, offer advice, and get a pregnancy test
Have a blood test if required
Have a cervical screening test
If you have any questions about our services, reach out to us on (02) 9393 9669 or headspace.bankstown@flourishaustralia.org.au
Alternatively, feel free to visit us at Suite 1, Ground Floor East, 41-45 Rickard Road, Bankstown, NSW, 2200.
Did you know that we have youth-friendly General Practitioners (GP)?

You can choose to see Dr. Jennifer Martinez or Dr. Erainia Wu. Please call (02) 9393 9669 to confirm availability if you would like to book an appointment.
We use bulk-billing arrangements through Medicare so when you visit and use our services, it will not cost you anything.
Learn how to get your own Medicare card by clicking on our 'How to Get Your Own Medicare Card' tab on our website (underneath the 'Our GP' tab).

For a factsheet on how to get help from a GP, as well as other information, you can access it here.
Not sure what bulk billing is, or why it can be a good idea to get your own Medicare card?
Do you have a Medicare card?
This green piece of plastic (or digital card on the Medicare app) is your golden ticket to seeing doctors and other services for free (or low-cost). You may already be on your family's Medicare card and receiving the benefits, but did you know if you're 15 or older and live in Australia or Norfolk Island, you can probably get your own personal card? With your own card you'll be able to control who you share your appointment history with.
Here, we'll give you the lowdown about what Medicare is and the simple steps to get yourself a card. It'll be helpful if you:
don't have a card and want to get one
are on your family's card and want your own
just want to learn about how it all works
But first: what is Medicare?
Medicare is Australia's public health system. It gives people cheaper (and often free!) doctor's visits, in person and via telehealth, medicines, and lets you go to public hospitals as a public patient. It also provides up to 20 sessions each year with a mental health professional if you get a mental health treatment plan & referral from your GP.
What is a Medicare card?
A Medicare card is a plastic card with your Medicare number on it that proves you're covered by Medicare. They also have an app, if you don't like carrying plastic cards around.
You can have multiple people, like a family or a couple, on the one card. If you're on a joint card then other people on the account can see your appointments, but they can't see why you're having the appointment, or what you talk about.
What is bulk billing?
Bulk billing is when your doctor lets you use your Medicare card to cover the cost of your appointment, so you don't have to pay for anything.
Keep in mind not all doctors bulk bill, so if that's the case they'll charge you directly and you'll get money back from Medicare later. You can find a list of doctors and clinics that bulk bill in Australia.
How do I get my money back from Medicare later?
The easiest way is to ask the receptionist to make an electronic claim for you when you pay at the doctor's office. If they can, they'll do it straight away and as soon as it has been processed, you'll either receive the money in the same account as the EFTPOS card you used to pay, or the bank account you've registered with Medicare.
If they can't submit the claim at your doctor's office, you can submit the claim via your Medicare online account or through the Express Plus Medicare app.
What is a gap?
If Medicare doesn't cover all of the cost of your appointment, this is the amount that's left that you must pay. It's good to ask if you'll have to pay a gap when you book your appointment, so you know what to expect.
Why should I get one?
There are a bunch of advantages to getting your own Medicare card:
You'll be able to get support for your own wellbeing – like going to a psychologist or getting a sexual health check up – with less worry about who can see that you've had the appointment.
You'll get a sense of independence having a card of your own.
The government only issues up to three copies of the one card, so if there are four or more people in your family, getting your own card will be more convenient.
A Medicare card can also count as ID evidence for all sorts of things, like applying for a passport.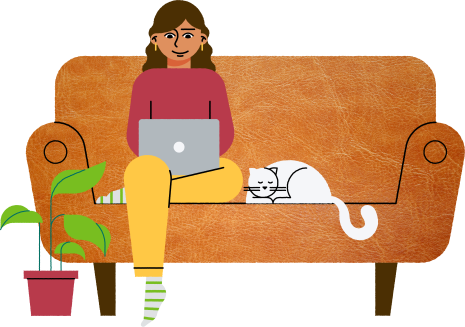 How do I get my own Medicare card?
It's pretty simple to get your Medicare card. Just follow these steps:
1. Complete a Medicare enrolment form

2. Send your completed form and supporting documents to Services Australia via post (address is on the form) or via email.

Supporting documents could include copies of your birth certificate, driver's licence, learner's permit or passport as well as residency documents such as lease agreements and evidence of employment.

3. Wait for Services Australia to mail you your card.
You can also download the Express Plus Medicare mobile app to access a digital copy of your Medicare card.
If you're already on your family's Medicare card and want your own, it is even easier.
You can do this online through your Medicare online account (this is linked through your myGov account), or the Express Plus Medicare mobile app.
Services Australia has put together a helpful step-by-step guide on how to request a new card.
What if I'm Aboriginal or Torres Strait Islander and don't have standard identity documents?
No worries, you can still get a Medicare card by using a referee instead.
You and your referee will need to fill in the Aboriginal and Torres Strait Islander Medicare enrolment and amendment form.
Then take your form to your local agent, access point or service centre.
If you need help, you can call the Indigenous Access Line.
Who can be a referee?
A community elder, medical/health service manager, nurse, school principal, any permanent Commonwealth employee with 5 or more years of continuous service, council chairperson, minister of religion and a welfare organisation worker.
If you don't have one already, it's also worth checking if you're eligible for a healthcare card or low-income healthcare card. These cards are for anyone who earns under a certain amount, or is on a Centrelink benefit. They count as concession for things like public transport, and mean the government will pay more of your health services. Find out more about concessions.
Do you have any praise, suggestions or complaints about headspace Bankstown's services or centre? We're interested to hear your feedback!
You can do this by filling out a quick survey linked below. It is confidential and anonymous, so you don't have to leave your details, however, if you would like to receive a response from from us, please leave your contact details in the last section of the survey.
Complete our Feedback Form here.