headspace Day 2022 - Community Picnic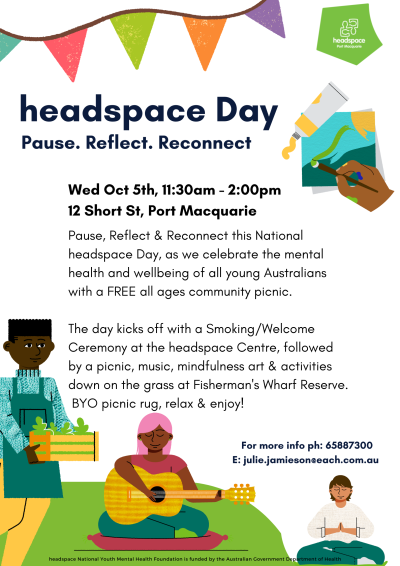 About this event
This National headspace Day we are encouraging young people, their family and friends to 'Pause, Reflect & Reconnect' by slowing down and taking time to prioritise their mental health.
To celebrate the day, headspace Port Macquarie are hosting a FREE all ages community picnic.
WHEN: Wed Oct 5th 2022, 11:30am-2:00pm
WHERE: headspace Centre (12 Short St) & Fisherman's Wharf Reserve (opposite the centre)
The day will kick off with a Smoking/Welcome Ceremony by Birpai Elder Uncle Bill at the headspace Centre, followed by a FREE picnic, music & mindful movement session down on the grass at Fisherman's Wharf Reserve. For those aged 10+, you will also have the opportunity to express yourself with a fun, mindfulness art class at the centre with guidance from local artist Vivianne Hazenveld. There are two scheduled art sessions, Group One: 11:45am & Group Two: 12:45pm.
NOTE: Numbers for art are limited to 20 per group . First in best dressed. Please specify which group/ time you would like, 1 or 2 when booking.
So what are you waiting for... BYO picnic rug, relax & enjoy!
For more info about the event contact: julie.jamieson@each.com.au
To book your free ticket head to event page
And remember when things are feeling too much, press pause. Take a minute, reflect then reconnect. For living in the moment ideas visit headspace.org.au/reconnect
How useful was this page?