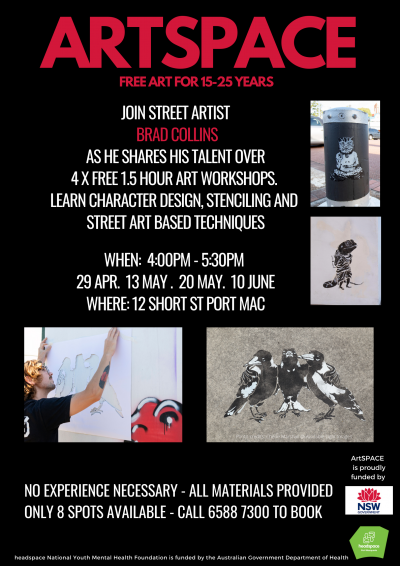 2021 Country Arts Support Program grant- headspace Port Macquarie a winner!
We are excited to announce that we are successful recipients of a small grant through the Create NSW Country Arts Support Program (CASP). This wonderful opportunity will bring ArtSPACE to the next level by connecting professional local artists and young people in our region.
This term (2)we have guest artist Brad Collins who will be sharing his street art talent across four sessions.
"Brad Collins is a self-taught painter and illustrator, utilising paint on canvas, stencil art, character design and illustration as his core mediums.
Brad finds love in painting traditional style portraits on canvas, mostly of friends and family, while Stencil Art and Illustrations of animal / human hybrids take on a more surreal approach to discovering himself and this weird world we live in.
Self-expression and self-discovery are the main forces behind Brad's artistic motivations."
No previous art experience necessary & all materials provided thanks to the CASP
If you are 15-25yrs of age and keen to participate in these 4 FREE sessions then call now to book your spot!
NOTE:This is a public event and you don't need to be accessing headspace services to attend.
Starts Tuesday April 29th 4:00pm - 5:30pm be quick as only a few spots left!
ONLY 8 SPOTS AVAILABLE
(DUE TO COVID RESTRICTIONS)
SO BE QUICK TO AVOID DISAPPOINTMENT & REGISTER NOW...
CALL 6588 7300 TO BOOK OR EMAIL JULES AT julie.jamieson@each.com.au
How useful was this page?