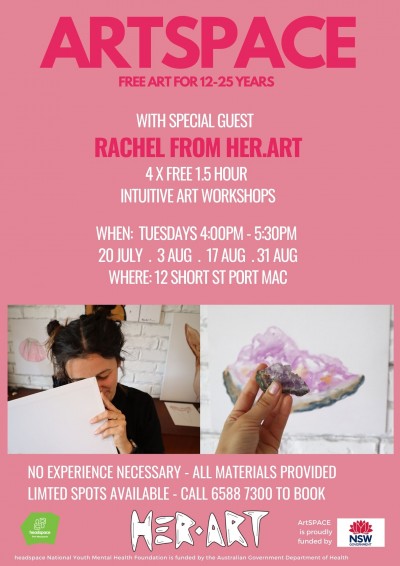 2021 Country Arts Support Program grant- headspace Port Macquarie a winner!
We are excited to announce that we are successful recipients of a small grant through the Create NSW Country Arts Support Program (CASP). This wonderful opportunity will bring ArtSPACE to the next level by connecting professional local artists and young people in our region.
This term (3 & 4) we have guest artist Rachel Stephan who will be sharing her 'Intuitive Art Series' across four sessions.
To see some of Rach's art check out her socials here:
"Rachel is a self-taught artist and local business owner of HER.ART. She host workshops, styles events, creates cool spaces for festivals, paints murals and loves exploring new mediums to create art.Rachel has a relaxed approach to exploring her creative path free from any restrictions often drawing inspiration from the natural world and recycled materials"
No previous art experience necessary & all materials provided thanks to the CASP
If you are 12-25yrs of age and keen to participate in these 4 FREE sessions then call now to book your spot!
NOTE:This is a public event and you don't need to be accessing headspace services to attend.
one more left.. Monday 15th Nov 4:00pm - 5:30pm - be quick as only a few spots left!
ONLY 8 SPOTS AVAILABLE
(DUE TO COVID RESTRICTIONS)
SO BE QUICK TO AVOID DISAPPOINTMENT & REGISTER NOW...
CALL 6588 7300 TO BOOK OR EMAIL JULES AT julie.jamieson@each.com.au
How useful was this page?