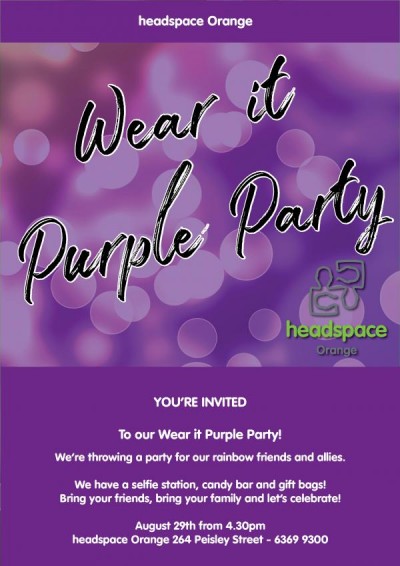 We invite you to wear purple to our Wear it Purple Party to be held on the 29th of August 2018 to show support of our rainbow community.
Wear it Purple Day was founded in 2010 in response to global stories of real teenagers, real heartache and their very real responses. In 2010, several rainbow young people took their own lives following bullying and harassment resulting from the lack of acceptance of their sexuality or gender identity.
headspace Orange is a proud supporter of our lgbtqi+ community and we are dedicated to promoting the annual expression of support and acceptance to rainbow young people.
You can register for our Wear it Purple Party at sharna.lord@marathonhealth.com.au
You can find more on Wear it Purple Day on their website