Now Hiring: Allied Health Private Practitioners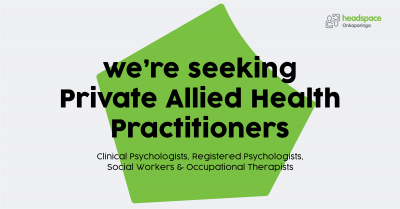 Multiple positions available
As part of our continued growth in services we are seeking professionally accredited Allied Health Practitioners to complement the mental health platform of our model. We are seeking individuals who have strong clinical skills, and experience in working with young people and in working with multi-disciplinary teams.
Individuals should have a demonstrated ability to provide focused psychological services and evidence-based assessment and intervention including:
1. Psycho-education (including motivational interviewing)
2. Cognitive-behavioural therapy including:
Behavioural interventions
Behaviour modification
Exposure techniques
Activity scheduliling
Cognitive interventions
Cognitive therapy
3. Relaxation strategies
Progressive muscle relaxation
Controlled breathing
4. Skills training
Problem solving skills and training
Anger management
Social skills training
Communication training
Stress management
Parent management training
Interpersonal therapy (especially for depression)
You will also possess experience in a range of mental health service settings; including the provision of mental health services to young people aged 12-25. Naturally, you will possess exceptional interpersonal and communication skills, along with strong information technology and information management skills and a high level of self-motivation and initiative.
Registered Psychologists, Occupational Therapists, and Social workers are encouraged to apply.
No cost for room use and administrative support (in exchange for bulk billing all clients seen);
Flexible working hours;
Guaranteed client case load;
Opportunity to work with and gain support from a multidisciplinary team (including Psychiatrists, General Practitioners, Psychologists, Social Workers, Peer Workers;
Ongoing Medicare funded referrals of young people who have been assessed and are ready to receive services;
Free administrative support and consulting space which includes reception,appointment confirmations, SMS reminders and all room bookings are taken care of for you.
Access to the electronic medical records database with comprehensive training provided;
Opportunity for peer support through regular meetings with the team; and
Free Professional Development Opportunities
How to apply
Applicants are requested to send a covering letter, addressing the key selection criteria, and resume to Sonder via our careers portal.
All enquiries to employment@sonder.net.au or phone (08) 8209 0700.
Full position descriptions are available at sonder.net.au/careers
Applications close Monday 6 January 2020.
How useful was this page?