Wesley LifeForce Memorial Day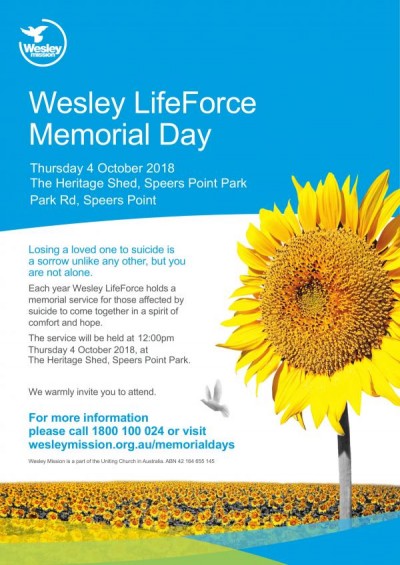 Losing a loved one to suicide is a sorrow unlike any other, but you are not alone.
Each year, Wesley LifeForce holds a memorial service for those affected by suicide to come together in a spirit of comfort and hope.
The service will be held at 12.00pm Thursday 4 October 2018, at The Heritage Shed, Speers Point Park.
Wesley LifeForce warmly welcomes anyone affected by suicide to attend.
No one should struggle alone. If you are needing to talk to someone, contact Lifeline on 13 11 14,
the Mental Health Line on 1800 011 511,
kids Helpline on 1800 55 1800,
or head to eheadspace.
If you or someone you know is in immediate danger, dial 000.