New 'Friends and Families Reference Group'
Hi there!
Are you a family member who witnesses the affects of mental health problems and illnesses of your young people? Maybe you're a friend that is worried about their mate who is going through a rough time. If you are either, we are inviting you to attend our newly formed Friends and Families Reference Group down here at headspace Maitland.
We recognize that our services are more effective when friends and families of young people going through mental health problems and illnesses generally support what we do here. Of course, we do our best by keeping it youth friendly and inclusive (engaging and collaborating with our Youth Reference Group, for example), however support for young people shouldn't end after leaving headspace.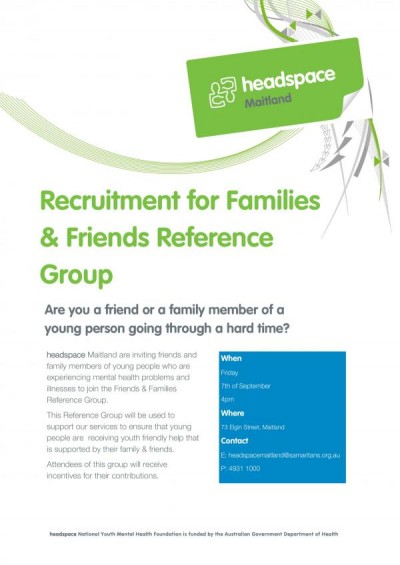 We reckon that families and friends have got a lot to say and some great ideas for our services too!
This is why we are strongly encouraging the wider community to get involved with our organisation so that our young people are receiving strong, holistic and effective support from everyone.
If this sounds like something that you would be interested in, give us a call on 4931 1000 or email us at headspacemaitland@samaritans.org.au to find out more. Otherwise check out the flyer I've posted below.
No one should have to struggle alone.
I look forward to meeting everyone!
Liz (Community Awareness & Engagement Officer).