headspace


Lismore
29 Molesworth Street, Lismore, New South Wales 2480

Phone (02) 6625 0200

Fax (02) 6625 0299
About
We offer heaps of free services for young people aged 12 - 25. These include:
Mental Health and Wellbeing
General and Sexual Health
Alcohol and Other Drug Services
Connections to Education, Employment and more!
headspace Lismore operates a "no wrong door" policy.
This means that no young person will be turned away without being supported to access other services in or outside of headspace.
It's easy to access our services:
call 6625 0200
email enquiries@headspace-lismore.org.au
drop into our centre 29 Molesworth Street Lismore
headspace Lismore loves to be involved in our community
If you would like our community engagement team to be involved in your local community event or activity send us a request.
Hours
Monday:

9:00am - 6:00pm

Tuesday:

9:00am - 6:00pm

Wednesday:

9:00am - 6:00pm

Thursday:

9:00am - 6:00pm

Friday:

8:30am - 4:00pm

Saturday:

Closed

Sunday:

Closed
headspace Lismore is operated by Social Futures. All headspace services are funded by the Australian Government Department of Health and Aged Care. Administration of funding is carried out by the headspace centre's local Primary Health Network, in this case, Healthy North Coast.
Services could include: provision of contraception and advice, testing, support, treatment and management of sexually transmissible infections(STI) HIV/AIDS and viral hepatitis vaccination for Hepatitis and HPV, pregnancy testing and referral.
Mental health workers – which may include psychologists, psychiatrists, counsellors and other workers – that can help if you're just not feeling yourself.
Workers either on site or linked to the centre who can assist you with any alcohol or other drug concern.
Centres have a range of programs and activities for young people. Just ask your centre what they have on. 
Get tips on how to prepare your resume and present for interviews. Find out about local employment opportunities (full time, part-time, or casual).
GPs can help with any physical health issues as well as issues related to sexual health, drug or alcohol use, relationship problems or feeling down or upset. Your centre may have a GP on site or links to one locally. 
A group of young people who help with events and some decision making at a centre. Ask your centre about getting involved.
"As soon as I sought help, I suddenly realised that my anxiety was very treatable and that I wasn't alone."
- Charlie
Jobs and volunteering
Positions currently available at headspace Lismore
Private Practitioners
Seeking Psychologists, Social Workers, Occupational Therapists & GP's
Flexible Work arrangements
Attractive rates + DNA fees + Professional Development
Be part of something bigger in 2022!
Are you experienced and passionate about providing private services and high quality, evidence-based interventions to young people aged 12-25 - then join us in making a difference and giving back to the community!
Looking to enhance your skills and experience alongside professional development networking opportunities through a national network of mental health care services?
headspace, the National Youth Mental Health Foundation Ltd, is an Australian government funded, not-for profit organisation committed to improving the lives of young people aged 12-25 years.
Working within our multi-disciplinary team in Lismore to deliver a wide range of services focused on mental health, physical (including sexual) health, vocational and educational support, and alcohol and other drugs.
We are currently seeking the following Allied Health Practitioners, who are eligible Medicare service providers and who have relevant medical registrations.
Psychologists,
Social Workers,
Occupational Therapists
General Practitioners
In return we can offer
Flexible working arrangements
Access appointment management, bulk billing and practice management support that enabled you to focus on delivering high quality services to your people
Guaranteed client case load
Fully equipped clinic
Direct referral pathways into onsite co-located providers
Social Futures is a voice for social change in regional Australia, helping to create connected, resilient communities. With more than 45 years' industry experience, we are a community service leader, striving to create change through our work across homelessness and housing supports, youth and family services, sector advocacy and programs that promote genuine participation for people with disability. Social Futures currently serves more than 80% of regional New South Wales.
Social Futures is an equal opportunity employer. Social Futures will actively recruit our workforce from targeted communities; including Aboriginal and Torres Strait Islanders, LGBTIQSB and people living with a disability, people with lived experience and people from culturally and linguistically diverse communities.
Social Futures is committed to prioritising the safety and well-being of children and upholds the National Child Safe Principles. Working with Children, and COVID Vaccination are mandatory requirements for all staff.
If you would like to be become part of this exceptional team and , please visit our website to address the selection criteria and apply online
https://socialfutures.org.au/work-with-us
DO NOT APPLY VIA SEEK
Only those who apply via the Social Futures Website and that adequately address the Selection Criteria will be considered.
More information
Supporting a family member or friend?
Tell us what you think about headspace Lismore and help us improve the service for other families and friends.
Complete our anonymous Family and Friends satisfaction Questionnaire.
To complete the questionnaire head to https://headspace.qualtrics.com/jfe/form/SV_6YlXJOG4fEBwhnw?platforms=Headspacecentre
headspace Lismore values your feedback and welcomes compliments, suggestions and complaints to help us improve our services.
headpsace Lismore has professionally trained staff that are focused on helping young people between the ages of 12 and 25 years to address any health problems, confidentially and with respect.
All of our onsite services are FREE for young people between the ages of 12 and 25!*
How do you access our services?
You can walk in off the street and make an appointment
You can call us on (02)66 250 200 and make an appointment
You can email us on enquiries@headspace-lismore.org.au
You can ask a parent, carer, teacher or the youth service you use to refer you
Do you need a medicare card?
You need a medicare card to access some of our private practitioners (psychologists, dietitian, and G.P.)
For more info on how to apply for a Medicare card, click here
If you don't have a medicare card, you can still access our Youth Access Clinicians, Drug and Alcohol Counsellor, family therapist and other counsellors
How do you get to headspace Lismore?
The Lismore Transit centre is down the road from headspace Lismore, on Molesworth street. Click here for Northern Rivers bus timetables and maps
What free services are at headspace Lismore?
Youth Access Clinicians to help you access the right supports at the centre or from other services
A G.P. - to keep your general health in check (including sexual health) as well as help out with a care plan if needed
Counselling
Psychology support
Drug and alcohol counselling
Heaps of info and someone to talk to
A range of different social groups
What does confidentiality mean for you at headspace?
In Australia, laws protect clients' rights to have the information they share with doctors and others who provide health services kept private. These laws mean that what you tell people during a health care appointment must remain private between you and that person or service, except in particular situations.
There may be times when the person you are seeing at headspace Lismore is required by law to share information about you with another organisation, your parents or carers, or in some specific situations, court or the police. This may happen if the staff member thinks you or another person is at risk physically or mentally. If you are under 16 and someone is hurting you, we are required by law to make a report to the Department of Community Services.
Whenever possible, a headspace Lismore staff member will talk to you first to explain the reason and need for any disclosure of your personal information. However, confidentiality is your right in almost all circumstances. If you aren't sure, just ask the staff member about your confidentiality before you talk to them. We will always do our best to give you a straight answer.
*where headspace clinicians refer young people to specialists or services external to the Centre, gap fees may be charged by those providers. We recommend discussing any costs, concessions or payment plans with those providers prior to engaging their services.
Our reception is through the main doors on Level 1, 29 Molesworth Street Lismore (Westlawn Building).
Our building is fully wheelchair accessible with internal lifts and accessible toilets.
We can arrange Auslan and other language interpreter support when requested on booking.
headspace services are also accessible outside of our Lismore office:
Ballina - B-Space: 32 Swift Street Ballina, NSW, 2478
Program Manager

Simone Balzer
Clinical Team Leader
Terri Connor
Jeanne Currie (Clinical Supervisor 'Student placement)
Service Delivery Team Leader
Victoria Coleman
Program Workers
Shazz Gillett
James Storer
Gabriela Barrios
Isabel Studer
Michelle Sweeney
Sheree Dixon - Youth Expansion
Laura Kelly - Youth Expansion
Ambarisa Crisfield (Student Counsellor)
Community Engagement Officer
Jess Riky
Yarn Safe Worker

Maryanne Brown
Group Facilitator
Vincent McManus
Reception & Administration
Rowan Smith
Sharon Bezrouchko
Rebecah Watsford
Counsellors
Frank Coughlan
Geoffrey Carthy (AOD)
To talk to any of us, or to make an appointment, please call us on 02 6625 0200 or email enquiries@headspace-lismore.org.au
Are you 12-25 and passionate about making a difference?
headspace Lismore aims to have young people involved in every aspect of the decision-making for our centre.
This includes:
Planning and helping run youth events and other programs including art workshops, markets, comps, hosting headspace stalls at festivals and more.
Evaluating and helping shape the delivery of headspace services.
Assisting in the design and development of our centre.
Attending various meetings for local organisations/services/schools and presenting on behalf of headspace Lismore.
Giving the youth a voice
Building self-confidence and developing personal skills
Giving feedback and ideas on policies and procedures, including recruitment and staff training.
Developing our social media platforms and community engagement strategies.
We meet fortnightly on a Tuesday from 5:00pm at our centre.
If you are interested in getting involved complete our Expression of Interest Form here.

Our Current Members:
General Members
Kyan
Mikaela
Belle
Emelie
Alex
Leon
Amelia
Nathan
Sam
LGBTIQA+ Social Groups
headspace Lismore runs three LGBTIQA+ social groups for young people in Lismore and Casino.
Mini Fruits is for young people aged 12-15 years.
This group is run on the 3rd Monday of the month from 4-6pm at headspace Lismore, 29 Molesworth Street.
Check out the poster here with all the info
Contact: Lee Styles at Clubhouse for registration forms on (02) 66 201 800 or clubhouse@socialfutures.org.au
Fresh Fruits is for young people aged 16-25 years.
This group is run on the 2nd Monday of the month from 4:30pm-6:30pm at headspace Lismore, 29 Molesworth Street.
There is no need to pre-register, people can show up and register on the day and the vibe will be relaxed and welcoming. The groups will be run by headspace Lismore staff and peer leaders. This is a young-people led initiative and remains a space where young people can come along and decide how they want to develop the group and what activities they want to do.
Contact: Jess Riky at headspace Lismore on (02) 66 250 200 or enquiries@headspace-lismore.org.au.
The Social Hub
Join us every 4th Monday of the month 3:30pm - 5pm.
Ages 12- 15 years.
Walk-ins welcome!
What to expect?
BOARD GAMES
FOOD
GROUP DISCUSSIONS
COOKING
ART
EXCURSIONS
For more information contact Jess at headspace Lismore on: 0439 639 912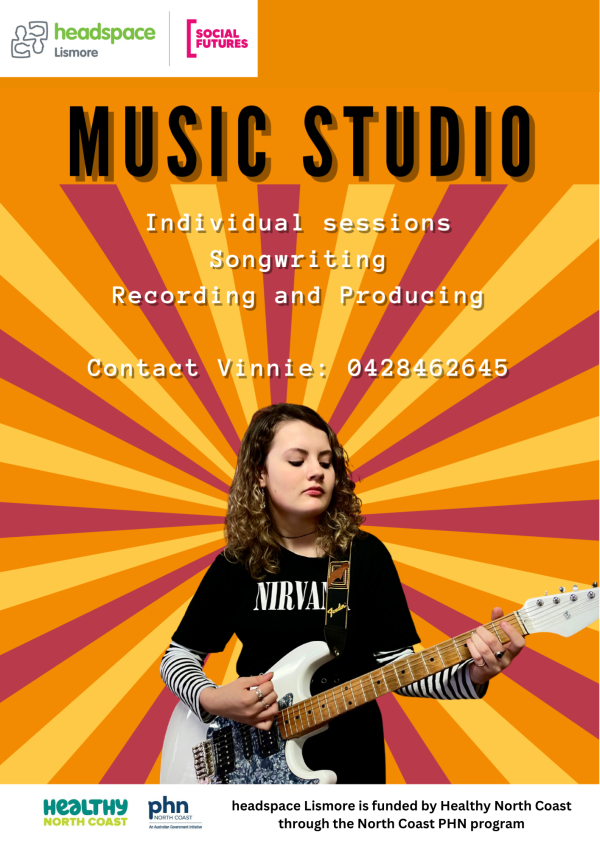 Are you interested in song-writing?
Want to explore recording and producing your own tracks?
Individual sessions and collaborations.
No experience needed.
Ages 16-25 years.
Access through headspace Lismore.
Studio located @ headspace Lismore, 29 Molesworth Street.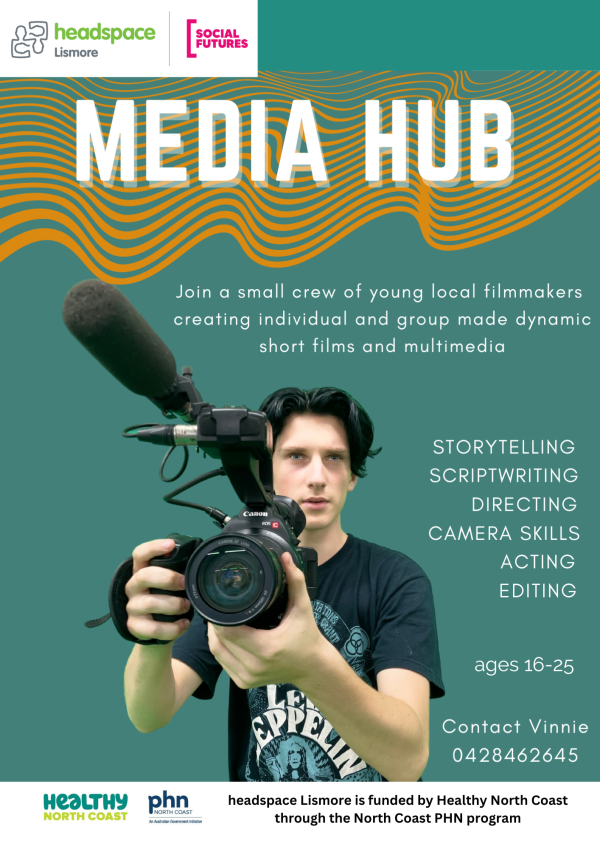 Bring your ideas to life and join a team of young local filmmakers creating individual and group original and dynamic short films and multimedia...
Script writing
Directing
Acting
Editing
Green Screen
Video Art
Ages 16 - 25 yrs old
Free
No experience necessary
Every Friday at headspace Lismore, 29 Molesworth Street, Lismore 10am - 3pm


To get involved contact Vinnie 0428 462 645