headspace


Indooroopilly
Level 1, 17 Station Road, Indooroopilly, Queensland 4068

Phone (07) 3157 1555

Fax (07) 3870 7405
About
We offer support in person, as well as telehealth appointments

headspace Indooroopilly is a free mental health service for young people aged 12-25. Scroll down for more info!
Hours
Monday:

8:30am - 5:00pm

Tuesday:

8:30am - 5:00pm

Wednesday:

9:30am - 6:00pm

Thursday:

9:30am - 6:00pm

Friday:

8:00am - 5:00pm

Saturday:

Closed

Sunday:

Closed
headspace Indooroopilly is operated by Open Minds Australia. All headspace services are funded by the Australian Government Department of Health and Aged Care. Administration of funding is carried out by the headspace centre's local Primary Health Network, in this case, North Brisbane PHN.
Nutrition screening, dietary assessment and education about food and lifestyle, also support around healthy eating strategies.
If you live near our headspace centre in a rural area but cannot travel in to see us, you can see our mental health workers online.
Workers either on site or linked to the centre who can assist you with any alcohol or other drug concern.
A group of young people who help with events and some decision making at a centre. Ask your centre about getting involved.
Get tips on how to prepare your resume and present for interviews. Find out about local employment opportunities (full time, part-time, or casual).
Mental health workers – which may include psychologists, psychiatrists, counsellors and other workers – that can help if you're just not feeling yourself.
Workers either on site or linked to the centre who can assist you with work or study opportunities. 
Centres have a range of programs and activities for young people. Just ask your centre what they have on. 
"Once I walk through the doors, I feel like headspace genuinely care about me getting better and I am reminded that people are there for me and want to help."
- Taylor
Request an appointment
Organise a time to visit headspace Indooroopilly and meet with us
Get in touch
Support us
Support headspace Indooroopilly by making a charitable donation today
Donate now
Media gallery
Services you can access at headspace
Making an appointment at headspace
Attending an appointment at headspace
Jobs and volunteering
Positions currently available at headspace Indooroopilly
GENERAL INFORMATION
headspace is the National Youth Mental Health Foundation providing early intervention mental health services to young people aged 12 to 25.The service is designed to make it as easy as possible for a young person and their family to get the help they need for problems affecting their wellbeing. This covers four core areas: mental health, physical health, work and study support and alcohol and other drug services. For more information about headspace you visit Who we are.
headspace Indooroopilly was established through a Consortium partnership of local organisations, led by Open Minds Australia (openminds.org.au) , and offers a multi-disciplinary model comprising a team of co-located services providing support to young people. Due to increasing demand and a commitment that headspace Indooroopilly remains accessible to support young people seeking help; we are seeking to expand our allied mental health team with additional private practitioners who are interested in working for headspace and with young people.
Working at headspace Indooroopilly offers allied mental health practitioners the opportunity to be part of an innovative service that is committed to improving the wellbeing of young people through the provision of high quality, integrated services when and where they are needed. For further information on headspace Indooroopilly please visit headspace.org.au/indooroopilly.
ALLIED HEALTH TEAM
headspace Indooroopilly is seeking sub-contracted private allied health practitioners, such as experienced clinical psychologists, general psychologists, mental health social workers and occupational therapists to compliment the mental health platform of our service model. Practitioners interested in providing contracted services can negotiate flexible arrangements so as to maintain existing private or public work. Interested practitioners must be eligible to provide services under the Medicare Benefits Scheme: Better Outcomes for Mental Health Initiative.
As headspace Indooroopilly is striving to increase accessibility to services for young people, appointments are provided at no cost to the young person. This means that as a private practitioner, you would agree to bulk bill young people for sessions with a minimum of 70% of the Medicare fee being paid to you.
The headspace Indooroopilly intake team will undertake a comprehensive psycho-social assessment of all young people prior to referral to private practitioners. A range of on-site complementary services are available should additional supports be required. The headspace team will work in partnership with private practitioners to provide a comprehensive, wrap-around service for young people.
BENEFITS TO YOU
Reception and administrative support provides assistance with electronic billing, SMS appointment reminders and appointment booking.
Support from the centres Clinical Lead and Intake Team.
The option to attend Clinical Review meetings and peer supervision.
Access to online professional development via headspace.
Working in a vibrant centre with other staff who love working with young people.
Young person friendly consulting rooms, activity space, and a private work space with telephone and computer equipment.
HOW TO APPLY
Please send your resume and a maximum two page cover letter outlining the selection criteria outlined in the following position description click here
More information
Transport
Parking
Undercover parking is available under headspace

Indooroopilly. This is accessed off Station Road.

Two hour street parking is available in the streets surrounding headspace Indooroopilly.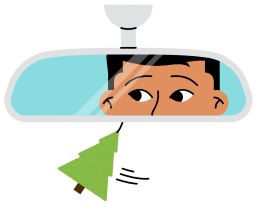 Public Transport
Public transport is available via numerous train and bus services.
The Indooroopilly train station is a 5 minute walk from the centre's main entry. For directions click here
The Indooroopilly bus exchange is a 6 minute walk from our main entry. For directions click here
For the most up to date train and bus routes and schedules, please visit the Translink Journey Planner
Accessibility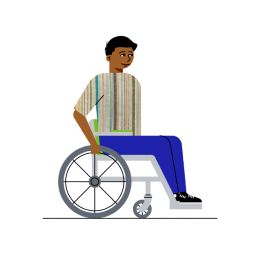 General
Water, tea, and coffee is available at reception
All rooms are air conditioned/heated
All rooms have plenty of comfortable seating
Wheelchair Users
Accessibility parking is available in the centre's underground car park (with access off Station Road)
The lift is accessible from the car park and ground floor, we are located on level 1

Neurodivergence
We have a quiet second waiting room down the hallway

If the space is unoccupied, young people can use our group room for movement or stimming.
Invisible Disabilities
Staff are aware that not all disabilities are visible and will take your requirements seriously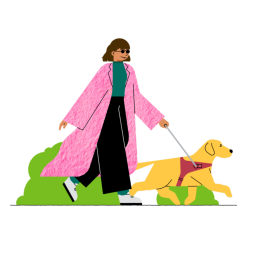 Deaf/HoH
T

o get support from us you can drop in to our office in person, send us an email, get a GP to fax a referral or ask a friend or family member to call on your behalf. Our email address is headspace.indooroopilly@openminds.org.au

headspace will pay for an Auslan interpreter for all your sessions

All staff are accustomed to being asked for pen/paper or reading phone screens
Blind and low-vision
On request, a walk through of the site can be arranged

Guide dogs are of course welcome. Staff are aware your guide dog is working and will not pat or play with them