Riverland Pride March (2021)
The Riverland Pride March is an all-ages community walk to celebrate and support LGBTQIA+ young people in the Riverland.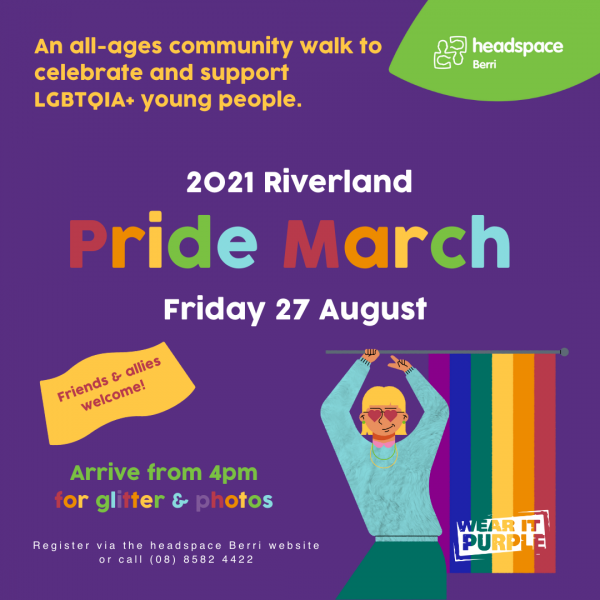 When: Friday 27th August to celebrate Wear It Purple Day
Where: Berri Riverfront, starting near a Special Place for Jimmy James
Time: Gather from 4pm for photos & glitter, walk commences 4:30pm
Register: Riverland Pride March Tickets, Fri 27/08/2021 at 4:30 pm | Eventbrite
Riverland Pride March is an event for LGBTQIA+ members and allies. Come along in rainbow-themed costumes, headspace green or purple for Wear It Purple Day.
The march will start on the Berri Riverfront at 4:30pm near the Jimmy James Memorial and conclude underneath the Berri Bridge with speeches and a special performance. Community are invited to cheer and join the walk anywhere along the route.
Young people are invited to gather from 4pm at the starting point for photos and glitter.
Remember to mask-up! Everyone is expected to COVID check-in when they arrive. Please stay home if you are unwell.
Download poster and other social media here.
*
Snacks provided by headspace Berri and the Riverland Tabletop Guild will be available at the Berri Senior Citizens Centre after the event. Riverland Pride March participants are encouraged to stay on for all or part of the Riverland Tabletop Guild's Boardgame Marathon event starting at 7pm.
*
Riverland Pride March is a project of headspace Berri made possible by fundraising from the Push-Up Challenge. Special performances at Riverland Pride March have been created as part of headspace Berri's 2021 project The Future of Here (and Now), made possible by the Australian Government's Regional Arts Fund, which supports the arts in regional and remote Australia. headspace National Youth Mental Health Foundation is funded by the Australia Government Department of Health.
A big thank you to all of the local supporters contributing to make 2021 Riverland Pride March happen, including:
Riverland Tabletop Guild
Relationships Australia
a.c.care
Renmark Paringa Council
Berri Barmera Council