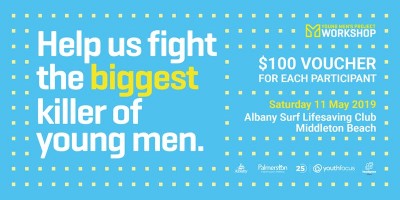 Help us fight the biggest killer of young men.
Suicide kills more young men in Australia than anything else. And we think the solution could come from young men
themselves.
If you're a guy between 16 and 25 we'll pay you $100 to take part in a Young Men's Project workshop in Albany on Saturday, 11th May 2019.
The whole purpose of this event is to get guys like you together in a room and help you express your ideas surrounding suicide and mental health.
It's got a real no-bull vibe and some guys have even described it as fun. Seriously!
So if you want to make a difference (and some cash) give it a go.
Participants must be young men aged between 16 - 25 years.
This workshop is proudly supported by City of Albany, Palmerston and headspace Albany.
How useful was this page?