adry, 20, talks access to headspace services
I am 20 years old and a proud member of the headspace Bondi Junction Youth Reference Group. I am of Indonesian background and my family and I are long-tenured residents of the Eastern Suburbs of Sydney.
I have had to endure through significant disruptions of my mental health and wellbeing since the age of 17. At that age, I was diagnosed with an aggressive form of cancer. My cancer diagnosis triggered multiple bouts of anxiety, as I had to undergo multiple cycles of chemotherapy and radiotherapy whilst completing my studies, which in turn, had a profound effect on the relationships I had with my friends and family. It was during this time that I had also experienced the deaths of close friends from cancer, which escalated the anxiety that I felt from being confronted with my own mortality at such a young age. My anxiety lingered throughout the remainder of my time at high school, the beginning of my time at University, and at the beginning of my tenure with headspace.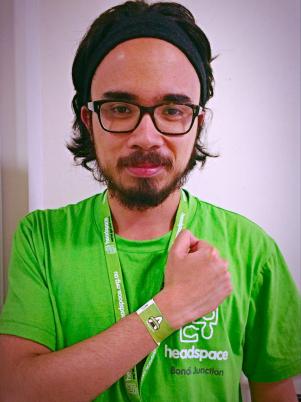 It was shortly after I joined headspace that I discovered my cancer had relapsed. The burden that my physical health had placed on my life significantly strained my mental health and wellbeing. Having to cope with my academic commitments and my commitment with headspace, on top of the demands of my physical health, made me feel incredibly anxious and in turn, overwhelmed and exhausted. I began to withdraw myself socially, in fear that my friends and family would think of me less if they knew how I was feeling. Upon the persuasion of the Centre Manager at headspace, who noticed a change in my behavior, I decided to access the service.
It was a difficult decision to seek help. At first, I did not disclose the circumstances that I was confronted with to my friends and family because I was ashamed about how I was feeling; I feared they would think less of me if they knew how I was feeling. The only restriction that I faced when seeking help was the personal fear that my friends and family would think less of me if they knew how I was feeling.
Firstly, I was quite proud of myself for making the decision to access help. I also felt quite relieved and grateful that I was able to work with a member of the youth access clinician team who facilitated a space where I felt comfortable unraveling the angst I held in regards to all aspects of my life.
I only had to wait one week before receiving support at headspace.
The time that I spent working with the youth access clinicians at headspace helped me reinforce the importance of practicing self-care. For so long, I had made myself believe that providing for others more than providing for myself was a good way to exercise self-care. Though this is true, to a certain degree, the support I received made me understand the importance of rededicating that support and care to myself, first and foremost, as a way of sustaining the support that I seek to provide for my peers.
Thanks for reading,
Adry, 20
Published 21 September 2016
How useful was this page?